Publishers who have decided to rely on Evolution ADV will be able to take advantage of Web Vitals Optimizer, a tool created to optimize websites and make them compliant with Big G's new guidelines with respect to the mobile page experience
Core Web Vitals: LCP, FID and CLS and Google's release of its new ranking algorithm based onuser experience have been talked about for some time. If you are not yet informed about this, you can find more information with respect to the new metrics here.
"The page experience update is now slowly rolling out (Top Stories will begin using this new signal by Thursday). It will be complete by the end of August 2021": these are Google's official statements on Twitter, which also stated how AMP will no longer be an exclusive factor for ranking in carousels, but it highlights the need to provide users with a performant page experience, thus according to the dictates of Web Vitals.
To provide a concrete response to the new scenario, over the past year Evolution ADV's technical and SEO team has studied Google's guidance on Web Vitals in depth, and launched Web Vital Optimizer, a tool that analyzes sites under Evolution ADV technology and releases the immediate solution for the publisher: a css file with the integrations that make the examined site compliant, which therefore does not run the risk of incurring penalties.
Within days of implementation, publishers can already see noticeable improvements in the Google Search Console panel.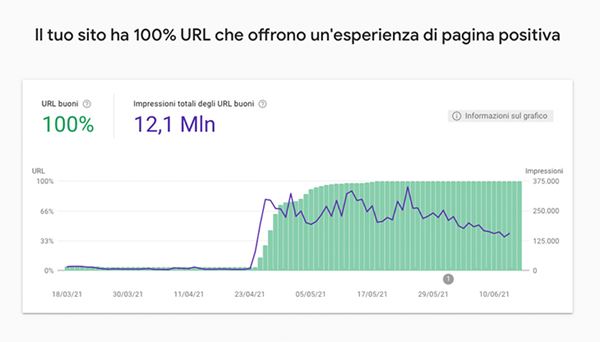 Contact us to request more information.