The race to data will come with casualties.
If we look at the ten most valuable companies in the world right now, eight are tech companies, of those eight two are from mainland China. This is only the tip of the iceberg if we consider that China is home to one third of unicorns, start-ups valued at over USD 1 billion and on the verge of IPO. Other things being equal, by 2025 we could easily foresee a scenario where five of the ten most valuable companies will be Chinese. But other things are unlikely to be equal.
The 10 largest companies in the world by market capitalization in 2021 (in USD billion)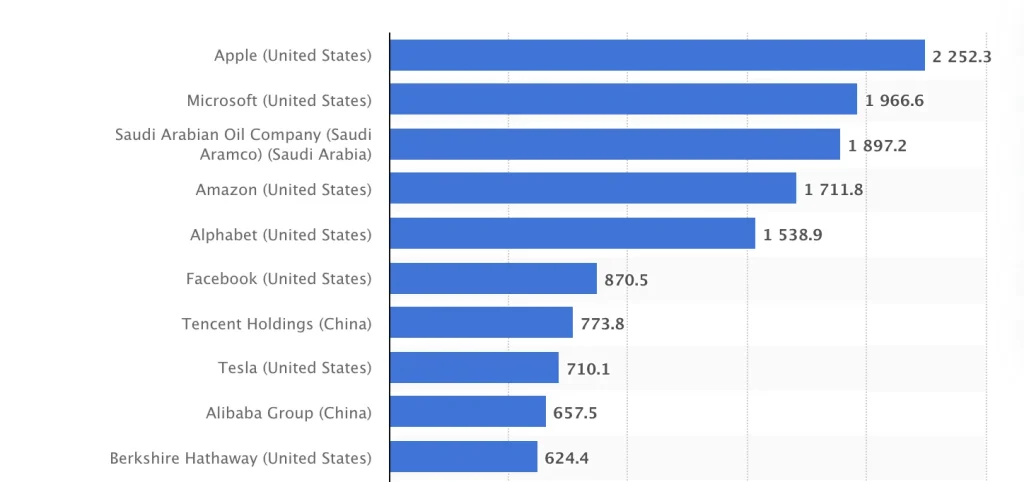 The rise of China into the digital economy was certainly favored by the protectionism of the government who banned the largest US platforms from the get go (Google, Apple, YouTube, Facebook), allowing domestic players to gain market share amidst a fast growing middle class with high disposable income. Chinese companies like Tecent and Alibaba were in the right place at the right time, favored by protectionism at home while raising money on the US stock market, which allowed them to access capital cheaply, fast and furiously.
The coronavirus pandemic has contributed to propel the digital business of China, thanks to the shift in consumer habits worldwide. In 2020, China's big tech represented 39% of the country's GDP, amounting to $6 trillion in revenues (9% YoY), according to the white paper Digital Economy Development in China (2021), published by the China Academy of Information and Communication Technology (CAICT). It is estimated that by 2025, the digital economy will represent 55% of the country's GDP.
For simplicity, China's digital economy can be broken down into two main segments: hardware companies (e.g. Huawei, Xiaomi, Nio) and internet companies (e.g. Tencent, Bytedance, Alibaba, JD, Baidu, Yalla, Pinduoduo), mostly focused on the entertainment, social media and e-commerce business. China is on a clear path to become the world hub in emerging and digital technologies. It is already a world leader in AI-based applications (with 390,000 artificial intelligence AI patent applications and accounting for 74.7 percent of the world's total of 520,000, according to the China Artificial Intelligence Development Report 2020), in blockchain technologies and quantum computation. The country has made incredible strides across a variety of digital sectors, such as e-commerce, fintech and autonomous driving. The only obstacle to the rise of China is China itself.
China realized that data is the new world currency and as such, it requires explicit rules to control how it is collected and shared. This new approach towards data became apparent in April 2020, when China explicitly included data in the list of "factors of production" that constituted the four pillars of the socialist economic policy: "land, labor, capital and technology". Beijing's ambitions go far beyond economic and technological dominance. Digital technologies are means for effective governance over companies and citizens to enforce compliant and conformist behaviors. This approach towards data control led to a systematic regulatory crackdown on its tech giants. A war that culminated this month with regulators accusing Didi – the world's largest ride-hailing firm – of alleged data privacy and national security breaches. This happened only two days after Didi went IPO on the New York Stock exchange with an evaluation of $4.4 billion. A number of companies were also warned or fined in the attempt to dissuade them from listing in the US. This deliberate move from Chinese authorities is de-facto putting an end to an era of aggressive expansion of Chinese firms overseas. 
Investors are growing wary as a result of this new cold war between China and the US. While $12.5 billion have already been raised via US offerings made by Chinese firms in 2021, in the last few weeks Chinese companies are now pausing IPO plans, for a total value of $182 billion dollars (including ByteDance).
Meanwhile, China's tech stocks have lost over $800 million since February, and Hang Seng Tech Index is down 31% from its February high.
$800 bn loss in value of Chinese tech stocks since February, 2021 (in USD billion)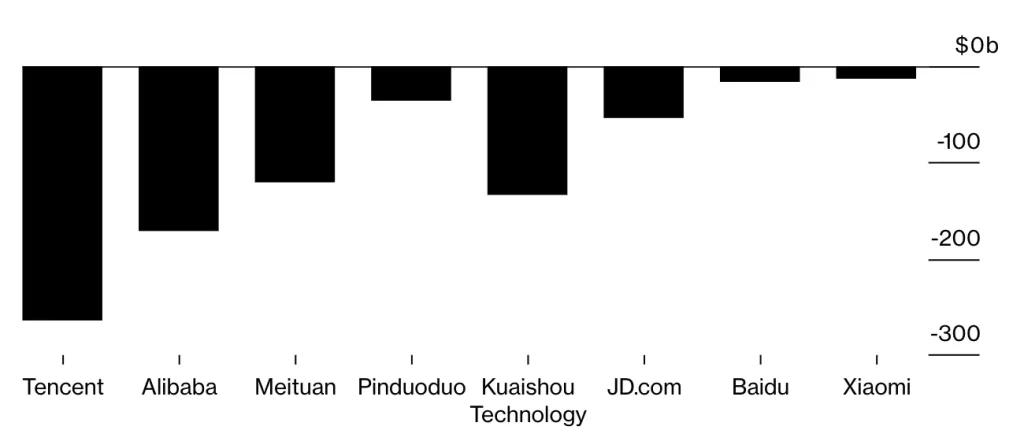 The recent hit to China's tech giants is testament to the fact that while the future of technology is most likely going to be Chinese, China needs the world as much as the world needs China to achieve their massive development goals. The global financial markets will play a major role in funding the $15 trillion investment plan that the government will need over the next two decades. The ball is in their court now, history tells us that an excess of regulation comes at the expense of economic growth. At the same time, history also tells us that when stakes are high, super powers are willing to take short term hits to achieve long term political objectives. Unfortunately, this looks like the case of China.